Please visit Springmatter.org to learn more about our support for diverse communities.
The attacks on our African American community over the past several months have been horrific, heartbreaking, and unrelenting – but even worse, it is the reality that people of color have endured for generations. It is not new. It is not isolated. The killing of George Floyd and Breonna Taylor by police violence and the lynching of Ahmaud Arbery are the evidence of oppression that is widespread and systemic.
The likelihood of being a victim of violence because you are a person of color and identify as LGBTQ, in particular Black transgender women, is staggeringly high. At least a dozen transgender and gender non-conforming people have been murdered so far this year.
It has been going on far too long and the response we are seeing is far overdue.
Equity and inclusion are a core part of our mission. What we've seen recently, unfortunately, confirms that we have a long, long way to go. It confirms that we as a people have not been nearly urgent enough.
But we have an opportunity to ensure that the deaths of George Floyd, Breonna Taylor, Ahmaud Arbery and so many others were not in vain. We can honor their memories by fighting to change the systems and the culture that led to their deaths. It begins with a pledge.
We pledge to be part of the solution. We are working hand-in-hand with community organizations to meet the immediate needs of populations most impacted by racism, injustice, and inequity, as well as working with community leaders on systemic solutions. We are providing resources to organizations that are addressing the injustices and inequities that exist in education, employment, and health care. Through our Springmatter Fund, which was created with this mission in mind, we are redoubling our efforts.
There is a lot of healing that needs to be done. It starts with listening. Many are suffering from the trauma of the past few months. The violence and abuse of power not only creates fear, but a hopelessness about the future – especially among our young people. We are dedicated to providing safe and inclusive spaces and helping to replace fear and uncertainty with hope.
Black Lives Matter and black lives are at stake. We are committed to help bring lasting change and working with you to create a more just and equitable world.
As we navigate these unprecedented times, Springmatter is working to support our community, schools, and frontline workers. Our mission of equity and inclusion has never been more important as we strive to meet the basic needs of those who are struggling.
We are providing funding, food, and Personal Protection Equipment (PPE) and proudly support these organizations who are working hard to help those in need — please join us in supporting them:
We are also part of the maker movement, providing the medical community and other frontline workers with much needed supplies:
Using our 3D printing capability to build face shields and other equipment for frontline workers.
Donating face masks, gowns, gloves, and other Personal Protective Equipment to our local hospitals.
Find out how you can become part of the Maker Works team.
Today, HRC announced that 53 major U.S. companies have joined a "friend of the court" brief supporting transgender student Gavin Grimm in G.G. v. Gloucester…
Take a look at the companies that joined the Supreme Court brief supporting Gavin Grimm and transgender rights. The Human Rights Campaign has done a great job in highlighting supportive companies.
We started our Springmatter Fund to make it easier for companies to connect with marginalized communities and to show our kids they are welcomed by companies, in spite of the negative messages from our government and other institutions.
This is a big deal — we need to connect marginalized kids with the MILLIONS of companies in our country that are inclusive, especially making it easier for small and mid-size companies to establish internships, training, mentoring, and ultimately jobs. 
We can start with our youth by going to schools and community organizations and speaking to them directly about opportunities our companies provide. But we won't stop there.
We will support company-school programs that promote learning (e.g., STEAM) and reinforce the inclusive messages from companies. We will bridge the gaps between employers, people in need of jobs, and organizations that assist our most disadvantaged populations. And you can help!
More info here:
http://springmatter.com/springmatter-fund/
http://www.michiganaerospace.com/
Stand with Trans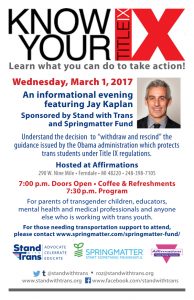 Thank you to everyone who attended and organized the Title IX Trans Rights Informational Night at Affirmations, on Mar 1, 2017.
If you haven't seen the video, it may be the most concise, yet illuminating explanation of Title IX and how it affects our kids — as well as the critical role of guidance in our educational systems.
Jay Kaplan, ACLU Michigan, brilliantly distilled the essence of Title IX, the possible outcomes of the upcoming Gavin Grimm case — and why schools ALWAYS have the ability to do the right thing when it comes to providing a safe learning environment for all kids.
Stephanie White explained the multiple levels of support Equality Michigan provides to resolve problems and showed the passion EM has for protecting our youth.
The champion of LGBTQ guidance for our schools, John Austin, who sacrificed to make a stand for our families when we needed it most, explained how desperately educators needed the information and why it is even more critical today. He continues to be an advocate for students and educators alike.
Current Sec. of the Michigan State Board of Education, Michelle Fecteau, who along with her colleagues on the board give us so much hope that our kids and educators will be given the best chance to succeed.
Michigan Dept of Ed's
Kim Phillips-Knope
gave an overview of the LGBTQ training and Silent Crisis workshops, as well as the work being done by MOASH and MY-Voice. There is tremendous demand for training from educators across the state.
Katie Lamb
of
GLSEN-Southeast Michigan
explained the mission of GLSEN, which includes anti-bullying work in K-12 schools, supporting GSA's and other organizations.
I am truly humbled to be part of such a great informational meeting — which of course turned out to be much more than that. We cannot speak about Title IX without feeling the suffering that so many of our kids must endure.
We cannot speak about the struggle for equality without remembering our nation's history and how states used Jim Crow laws to subvert equality and institutionalize segregation and discrimination. Separate bathrooms, schools, restaurants, even drinking fountains, and of course, 2nd class treatment on buses. Over a century of systematical dehumanization of African Americans.
But to kids and marginalized people everywhere, we give our commitment that we won't stop fighting until we have equality for all. We will show that the overwhelming majority of companies in the United States already support LGBTQ and all marginalized communities with powerful, inclusive policies.
We won't stop sharing our stories and educating so that people one day realize their worldviews have been compromised by inherent biases and irrational fears pervading our culture.
We won't stop until people realize their worldviews can and must change to reflect the truths we have learned — the truths of gender identity and sexual orientation being on a spectrum. The value of diversity. The self-evident truth that all men are created equal.
Finally, we must remember the words of Dr. King, "Religion and education must play a great role in changing the heart. But we must go on to say that while it may be true that morality cannot be legislated, behavior can be regulated. It may be true that the law cannot change the heart but it can restrain the heartless. It may be true that the law cannot make a man love me but it can keep him from lynching me and I think that is pretty important, also. So there is a need for executive orders. There is a need for judicial decrees. There is a need for civil rights legislation on the local scale within states and on the national scale from the federal government."
Thank you to all the people who have given our kids and families not only hope, but the tools to take action. The transgender and gender expansive kids who face daily struggles and become the most powerful advocates. The kids and families working behind the scenes, because the backlash they face in their communities is too great. The LGBTQ organizations and allies fighting along side us and in many cases leading the way. The many companies in the United States that already recognize the value of diversity and provide equal opportunities for all people. We owe you a debt of gratitude.
The Simple, Self-Evident Truths of Transgender Kids, Equality, and Title IX
Sponsored by Affirmations, Stand with Trans and the Springmatter Fund